WikiLeaks vanishes from web as US company removes DNS support
Everydns.net says attack against leaks site endangered other customers' service – effectively pushing site off the internet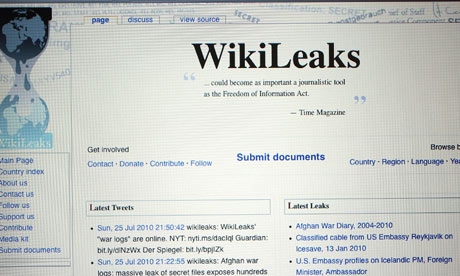 Joe Lieberman, chairman of the Senate's committee on homeland security, earlier this week called for any organisation helping sustain WikiLeaks to "immediately terminate" its relationship with them.
"These attacks will not stop our mission, but should be setting off alarm bells about the rule of law in the United States," he warned.
WikiLeaks was given 24 hours' notice of the termination, and everydns said: "Any downtime of the wikileaks.org website has resulted from its failure to use another hosted DNS service provider."
The move comes after several days of WikiLeaks coming under a determined DDOS attack, apparently from hackers friendly to the point of view of the US government, which has disparaged the site's leaking of thousands of US diplomatic cables.
"[Amazon Web Services] does not pre-screen its customers, but it does have terms of service that must be followed. WikiLeaks was not following them. There were several parts they were violating. For example, our terms of service state that "you represent and warrant that you own or otherwise control all of the rights to the content… that use of the content you supply does not violate this policy and will not cause injury to any person or entity". It's clear that WikiLeaks doesn't own or otherwise control all the rights to this classified content. Further, it is not credible that the extraordinary volume of 250,000 classified documents that WikiLeaks is publishing could have been carefully redacted in such a way as to ensure that they weren't putting innocent people in jeopardy."
It noted that:
"When companies or people go about securing and storing large quantities of data that isn't rightfully theirs, and publishing this data without ensuring it won't injure others, it's a violation of our terms of service, and folks need to go operate elsewhere."
But as commentators have pointed out, that stance is contradicted by the fact that Amazon has previously hosted the "war logs" from WikiLeaks which contained data about the US wars in Afghanistan and Iraq.